Called 'warm land' for a reason.
No question, rain is in play on Canada's west coast and a big reason why it's so green and beautiful, but what makes Vancouver Island's Cowichan Valley so special is best said by the First Nations Salish translation of 'Cowichan': warm land.
There's a Mediterranean-like microclimate here that makes grapes (and winemakers) very happy—especially the mild, year-round average temperature that's warmer than anywhere else in Canada.
As part of our commitment to sustainable vineyard practices, we grow varieties that are suitable for our unique climate and require the least amount of intervention. These include disease tolerant, early ripening varieties that have been developed in the coastal region, for the coastal region.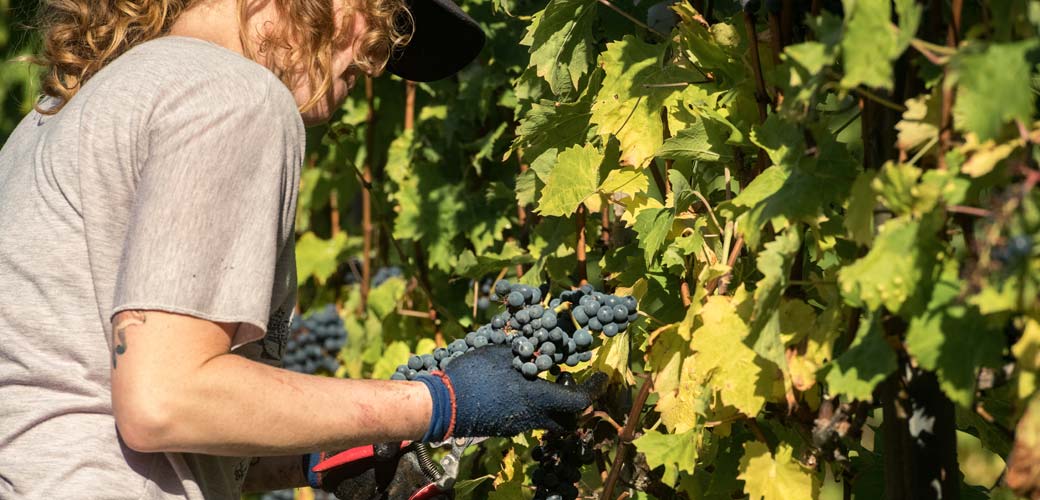 The perfect collaboration of hand & land.
Committed to making wines that reflect the exceptional soil and growing conditions of the Cowichan Valley, winemaker Dan Wright and his team currently farm 12 acres of grape varieties at Unsworth Vineyards. The oldest block is Marechal Foch, which was planted in 2007—the grape behind our award-winning Ovation.
In the summer of 2011, several Blattner varieties were planted, which have become big players in the orchestration of our Allegro and Symphony blends.
While wine enthusiasts may initially pause when introduced to these new wine varieties and innovative blends, one taste typically does it. More mainstream Pinot Gris and Pinot Noir were planted in 2013 and now supplement grapes grown for us by neighbouring vineyard partners.

A traditional, yet artisanal winemaking philosophy.
After harvesting the grapes once the flavours have reached their peak and the tannins are at their softest, that same artisan philosophy is applied to winemaking: taste and instinct reinforced by science and method. Using leading edge equipment, we roll-up-our-sleeves and diligently tend to every stage of the winemaking process.
Small production by design, we focus on handcrafted wines of distinction using signature techniques that showcase the very best of the fruit we grow.
FAQs on our Vineyard & Winery